---
---
About this item:
The new Inflatable Pry Bar and Leveling Tool is designed for professional users.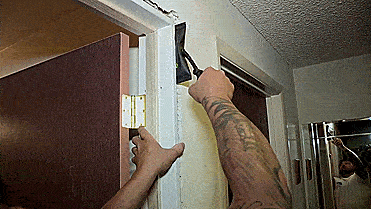 A single installer can position and hold items in place, saving jobsite time and reducing labor costs by providing a much-needed extra hand in installations.
It's perfect for window and door installers, interior construction professionals, installers of appliances and small equipment, other skilled craftsmen and serious DIYs.
Features:
CONTRACTOR-GRADE
inflatable air wedge for window, door and cabinet installations; replaces damaging pry bars and wooden shims
300 LB LOAD RATING
safely handles full size installations with just a single installer; saving time and labor costs
ROUNDED CORNER AND INTERNAL STIFFENER
gets into tight 3/32" gaps and won't fold under pressure; durable, no-scuff cover leaves no marks
WIDE 2-1/2" GAP SPANNING CAPACITY
means greater lifting or pushing range and more versatility on the job or around the house
EASY ONE-HANDED OPERATION
using simple squeeze pump and precise bleeder valve lets you raise and lower to perfect alignments
Versatile --can be used in the shop, on the jobsite, in the home or anywhere you need to lift and align objects. The more you use Inflatable air cushion  the more uses you will find - appliances, beams, cabinets, doors, equipment, furniture, HVAC, plumbing, joists, countertops, mantels, bathroom fixtures, curtain walls, flanges, windows and more.
Package details: 
Package Weight:

 

0.2 kg 

Package Size:

 

17 x 16 x 4 cm 
Package includes:
1 x Inflatable Pry Bar and Leveling Tool
---